One of the things I love best about living in the DC Metro area is all the wonderful things to do here. Every year America's largest Beatles festival comes to the National Harbor, and every year we attend. Abbey Road on The River takes the Gaylord National Resort by storm  this Labor Day weekend and gives you the opportunity to live, breathe and definitely sing along with all things Beatles. In every room there is a concert or exhibit going on, I suggest checking out Jukebox– "The Puerto Rican Beatles," they are fantastic and didn't seem to mind when my two year old practically got up on stage with them and sang along. Our second year attending they remembered us and happily posed for pictures with my son.
The
BritBeats
are not to be missed, and one of the coolest things I have ever seen was when many of the artists from several of the tribute bands performed the entire
LOVE album live.
I get goosebumps just thinking about it! (And when "John Lennon" stepped forward and began Revolution I finally understood why people always say he was the sexy one. I've always been a McCartney girl…but hello
lovah
!) This year I will definitely be checking out Sergeant Pepper's Lonely Hearts Club Band
live
.
(Max and Jukebox)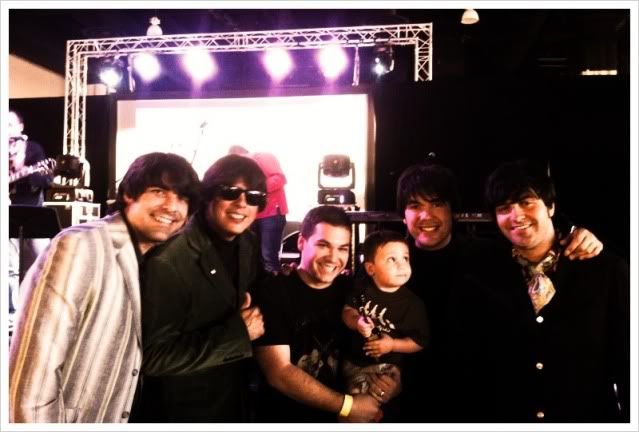 This year they've added a little something for the Monkees fans: an all-star tribute to the Monkees! I admit I am a little excited about this. Full disclosure: I was Peter Tork's personal assistant for a while and I think he would agree that while we had a BLAST together, I was truly a terrible personal assistant. Terrible! That being said Davy Jones was the only Monkee I never met or knew, and I am excited to check out their songs live!
While this is a big festival, with a lot of loud music and some truly hard-core Beatles fans, it is absolutely kid-friendly. My son was met with joy and kindness wherever we went, and there seems to be nothing Beatles fans like more than seeing new Beatles fans being born.
(Even Huckleberry got some swag)
The National Harbor is the perfect place for this type of festival, with beautiful venues and a nearby shopping center. It's a great way to end the summer!
If you are looking for something fun to do this weekend I highly suggest you give Abby Road on the River a go! Tickets are available through
eventbrite
, 5 & under are free at the door and 6- 18 are half price…see? New Beatles fans are treasured.
Stephanie Stearns Dulli is a professional actress and aspiring photographer who abandoned Los Angeles for the better school district of Montgomery County. The mother of two sons, Max and Huck, she finds time to contribute to the DCMoms, iVillage, and Just Be Enough as well as her personal blog Belle Reve. Favorite hobbies include coveting really expensive camera equipment while singing Beatles songs, Pinterest and pondering when grocery shopping alone became "Me time." 
Comments
comments